Maybe it's because I've just moved back to New York after five years on the other side of the world. Maybe it's because I'm now old enough to have lived through a few cultural eras. Or maybe it's just because we're at the tail end of period, where characteristics become caricature. Whatever the case may be, the current era of culture and design has unusually easy for me to decipher during my first few months back in New York.
My first haircut after moving back was at Rudy's Barbershop in Chelsea. As I stood at the entrance, it struck me just how many barbershops I had passed by in my first few weeks back here. I don't mean salons; I mean barber pole toting, ceramic-tile-floor, lean you back in a leather bound chair for a shave type barbershops.
Why now? I thought. What makes this such an opportune time to open a barbershop, of all things?
I soon realized just how perfectly the barbershop fits within this era of design and culture. Visit the bars and restaurants and shops in New York and you'll notice a host of recurring styles that evoke rusticness, nostalgia, and, whether it's authentic or just feigned, craftsmanship.
Goods, food and beverage are eagerly presented as artisinal, handmade, local and small-batch. Speakeasies are abundant. Men traverse dry, paved urban streets in brown leather and rubber duck boots. Patronizing venues around New York, you see lots of creamy whites, often from ceramic tiles, and matted blacks, often from wrought iron, and and browns, often from wood.
A close friend of mine, who started a fashion line celebrating Old New York and Americana right at the beginning of this era, describes it as "salt of the earth". Consumers today covet tactile experiences — the slurping of oysters or a barber's shave — to manufacturing materials — ceramic, iron, wood, and even wax.
These experiences and materials harken back to a time before generic, conglomerate business took over in the late 90's and early Aughts. In the wake of Starbucks' saturation, we now seek out the likes of Blue Bottle and other chemical lab coffee setups (lest I come across as cynical, I'm as snobby and fussy about my coffee as anyone; likewise, I'm a frequent patron of everything artisanal). In terms of materials, we're aiming to leap back over a time when glossy materials like glass, aluminum, steel, and especially plastic pervaded.
Those glossy materials are now out of fashion, though they are abundant in another realm: technology. While I know I have a particularly iPhone-centric view of the world, I can't help but notice how the prevailing styles of bars, restaurants, shops and other venues so directly contrast the very thing that has most pervaded our lives in the past five years: the glossy, black glass/aluminum/plastic Internet-connected rectangles we carry in our pockets. Whereas wood, iron and ceramic harken back to what feels like a more tactile, corporeal era, the single color, compact, smooth, seamless construction that defines a good-looking phone belies a technology that's mysterious and inscrutable. There's a pun with "iCloud" and "cloudy" that I'm not deft enough to make.
This is true of many technologies besides phones. At one time you could look under the hood of a Cadillac and gather an idea of how the engine worked. Pop open the hood of a BMW today and it appears as if the engine has been sealed off to help owners resist the temptation to understand what's going on under the hood, so to speak.
Of course, even if the mysteries of modern technology has something to do with current design trends, it's probably only a minor component. Current trends probably have more to do with this era of breathless prosperity that white collar urban dwellers (like myself) are living in: An ever-growing economy since 2009, ubiquitous on-demand services, and freedom from labor. Perhaps the return to the "salt of the earth" helps us feel grounded amidst the prosperity.
I've put together a short photo essay — please, if there's a less self-important term I can use to describe this post, let me know — that highlights some of the trends I think are most prominent. Since this is a post about the design of real world places and environments, I thought it would be neat to source the photos from Foursquare.
---
The story begins, of course, with the barbershop I visited. Rudy's Barbershop is on 29th between Broadway and 5th Ave.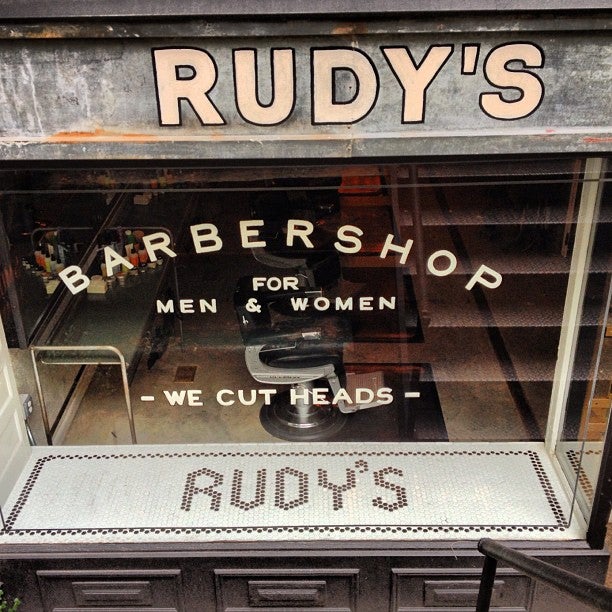 Source: @hansv on Sept 7, 2012


---
It's not a barbershop, of course, without iron forged, leather-bound, old-timey chairs.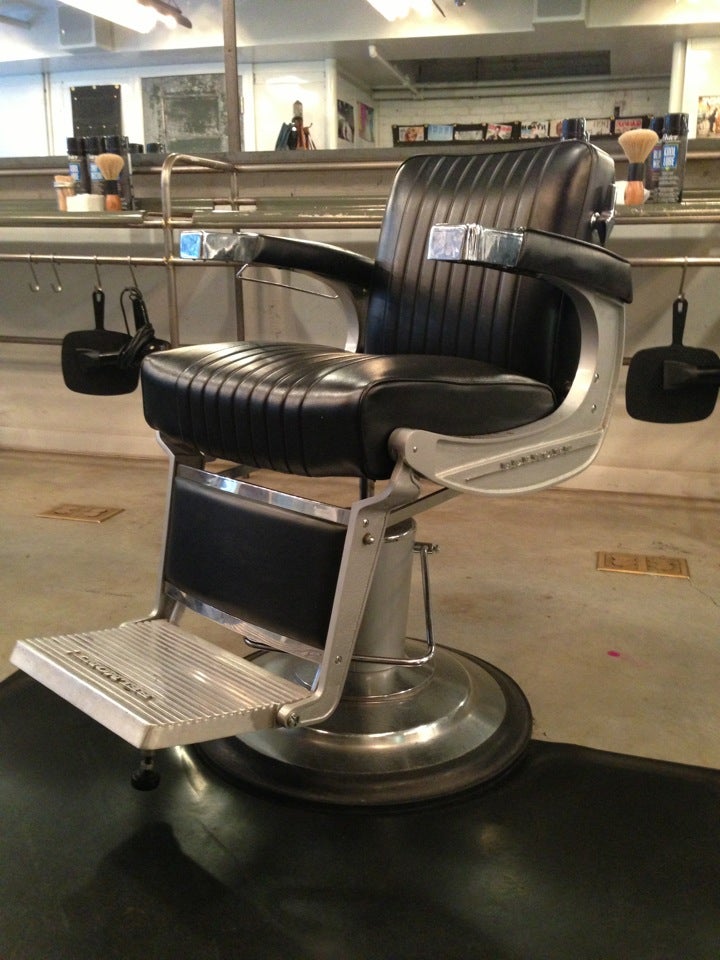 Source: Eddie Quiles on Aug 13, 2013


---
Maybe you also spotted the tiles near the entrance where "Rudy's" was spelled out? Ceramic tile floors are very in, particularly in bars like Schiller's Liquor Bar.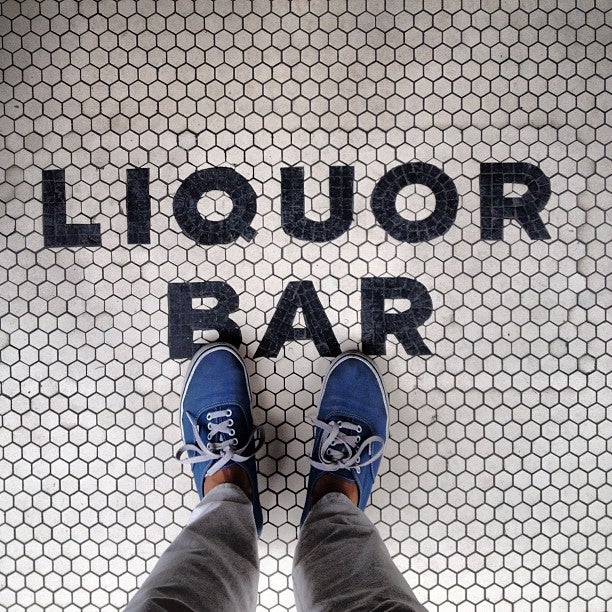 Source: Steven Rojas on June 8, 2013


---
In bathrooms, like the one at Schiller's, you also get freestanding, ceramic sinks.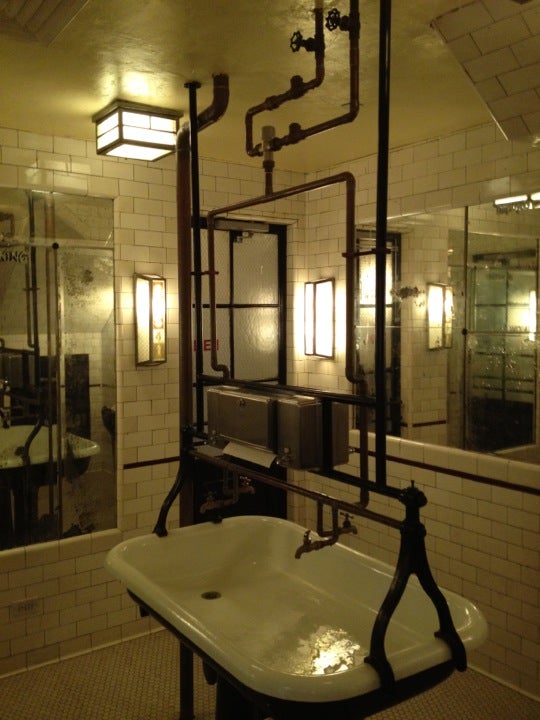 Source: Jamie Klausner on February 20, 2012


---
Ceramic "subway tiles" are very popular.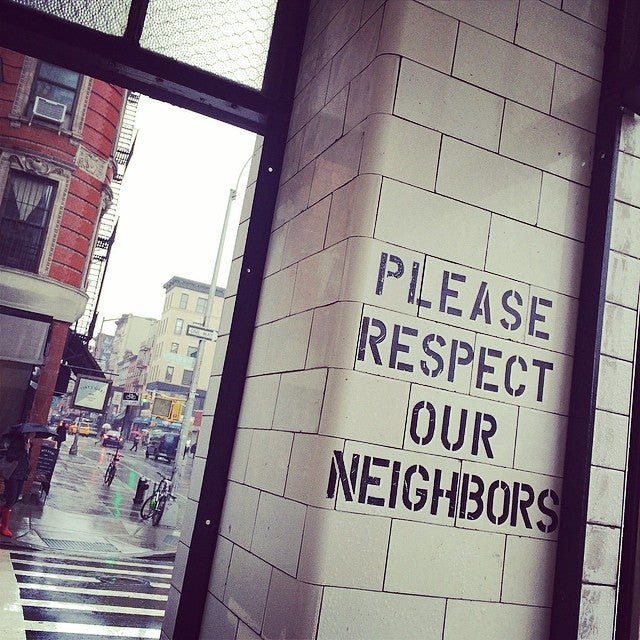 Source: Steve Davies on April 30, 2013


---
Here they are again at Mighty Quinn's, a popular BBQ joint.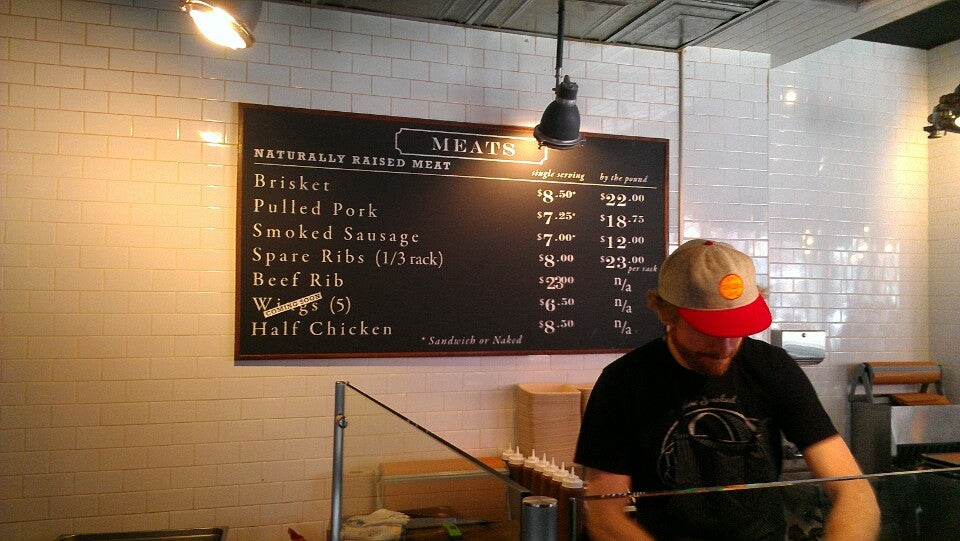 Source: Christopher Barrows on March 22, 2013


---
Mighty Quinn's is known for their ribs.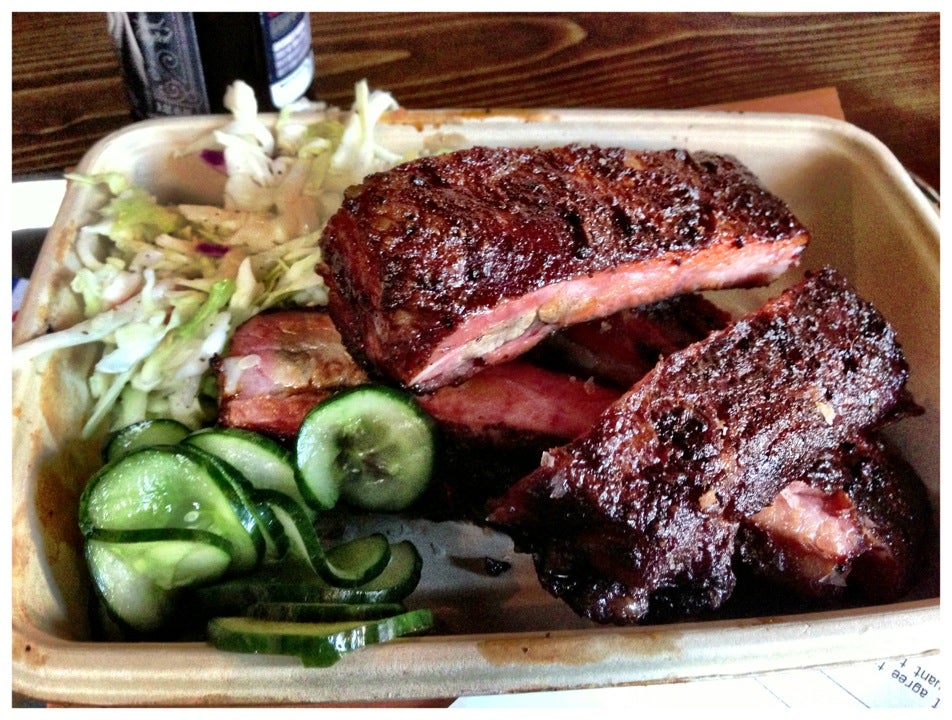 Source: Keoniinthecity on April 6, 2013


---
Pork, and pigs in general, are all the rage. Here's the pig that hangs outside the very popular Spotted Pig.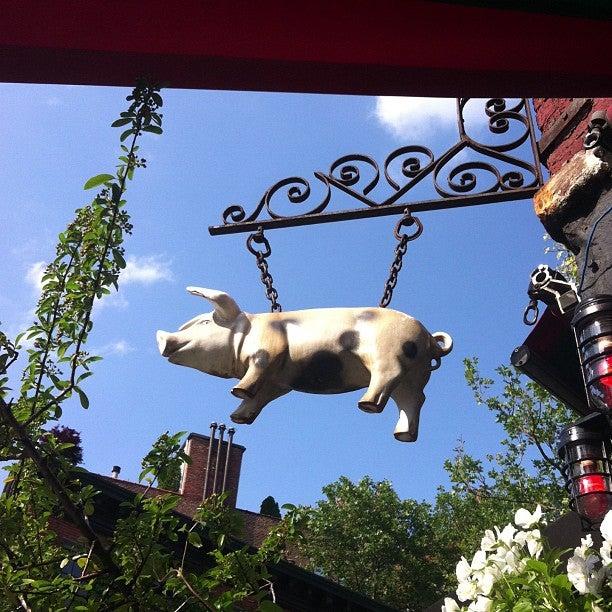 Source: Dafne Cejas Galiano on June 9, 2013


---
In this era, you can't afford to be afraid of pig anatomy.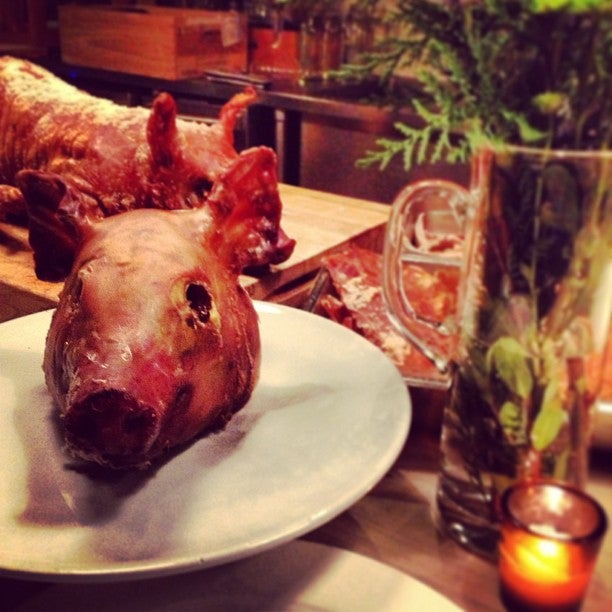 Source: Greg Brownstein on June 9, 2013

My friend Mike of Barking Irons suggested to me that something like "The Butcher's Revival" might be a poignant title than "Barbershop Revival". Mike, on butchers:
The Butcher has received an entire cultural re-branding — once seen as necessary but somewhat gross occupation, the Butcher today is much closer to artistry than his grandfathers were. Suddenly, it is a precise and ancient craft taken to with not a little bit of spiritual zeal; a somewhat brooding, primal, but connoisseur-ish craft has emerged around his knives and cleavers, replete with his signature beard or mustache, healthy girth, and blood splattered apron. The pig itself has become a symbol of this re-branding — the somewhat recent prevalence of pig roasts, suckling pigs, and ever present charcuterie would have been seen as somewhat grotesque and indulgent 10+ years ago. Now it is a beacon for foodies.
---
At Joseph Leonard in the West Village, you can get a bacon-wrapped brussel sprout and an oyster as garnish to your Bloody Mary. Served, of course, in a Mason jar.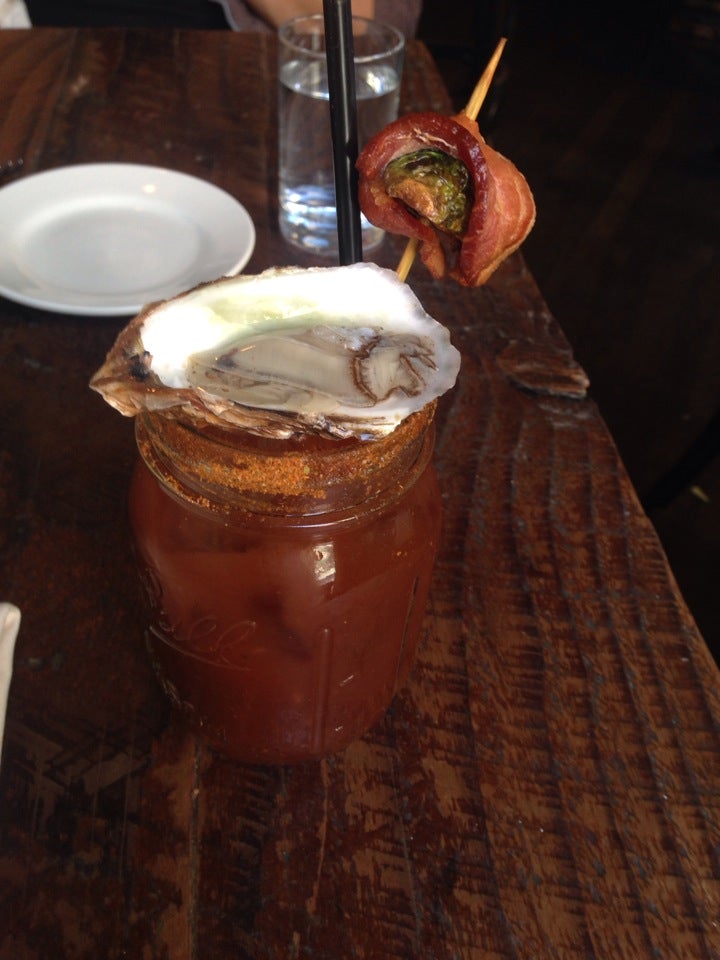 Source: Kim L on Sept 14, 2013


---
Coupe glasses are another popular vessel for cocktails. That cocktail at Employees Only, a speakeasy in the West Village, looks like it has thyme in it. Yum.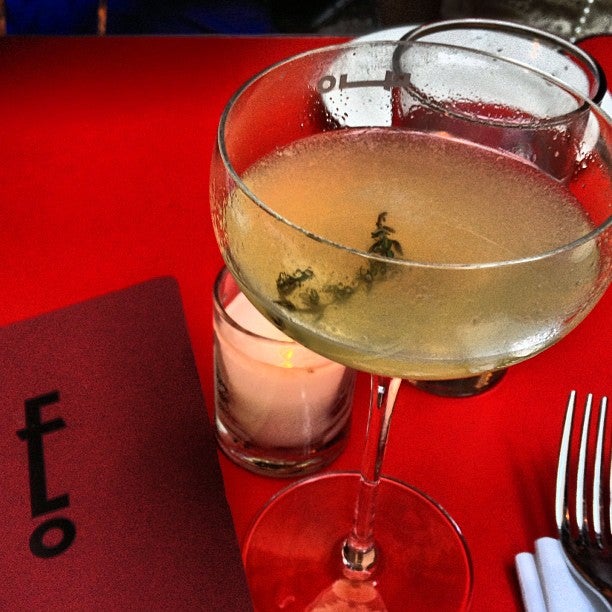 Source: Matt Bruck on May 6, 2013


---
Moscow Mules are served in copper mugs, like the one here at The Liberty. Copper may be shiny, but it's a soft metal that's often unusually tactile for a metal.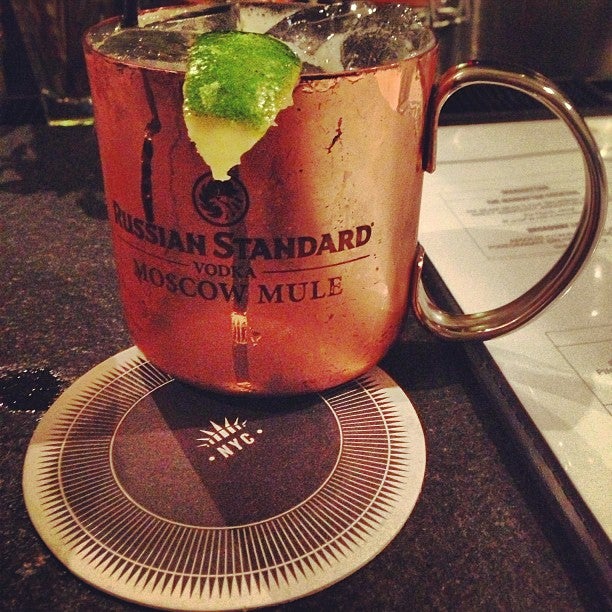 Source: Megan Gilbride on May 6, 2013


---
In general, cocktails are very popular. I think it's because they have an artisanal, handcrafted quality to them. Printing the menu in a typewriter-like typeface, as they do in the Ace Hotel Lobby Bar, enhances that experience.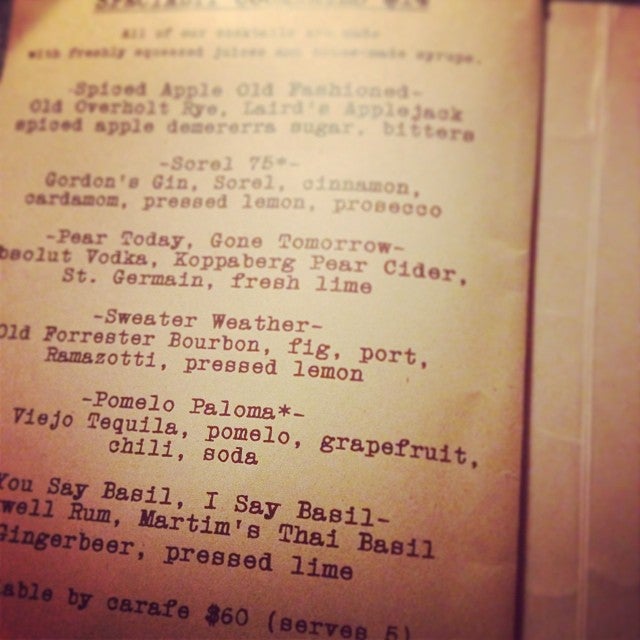 Source: Line Atallah on January 30, 2014


---
Finally we've gotten to talking about type. As is often the case, today's popular type is very emblematic of the current era.
Here's some gold lettering at The Meatball Shop in the West Village. The one area that you do see glossy is with gold. Gold has that special quality of being glossy but yet still vintage and nostalgic.


Source: Lisa E. Laskaridis Sarmiento on May 22, 2012


---
(As long as we're at The Meatball Shop, here's a gratuitous subway tile shot)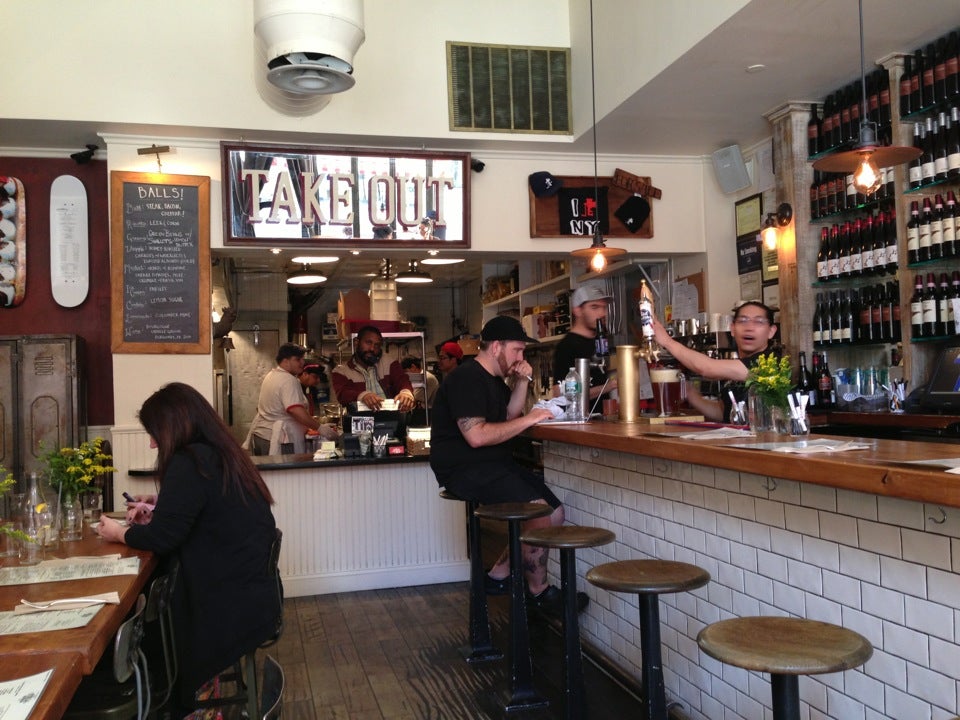 Source: Clifford Giminez on May 3, 2013


---
Ok, back to type. Particularly gold type. Below is the vintage script logo for Madewell, a women's clothing shop (the one pictured is in Flatiron).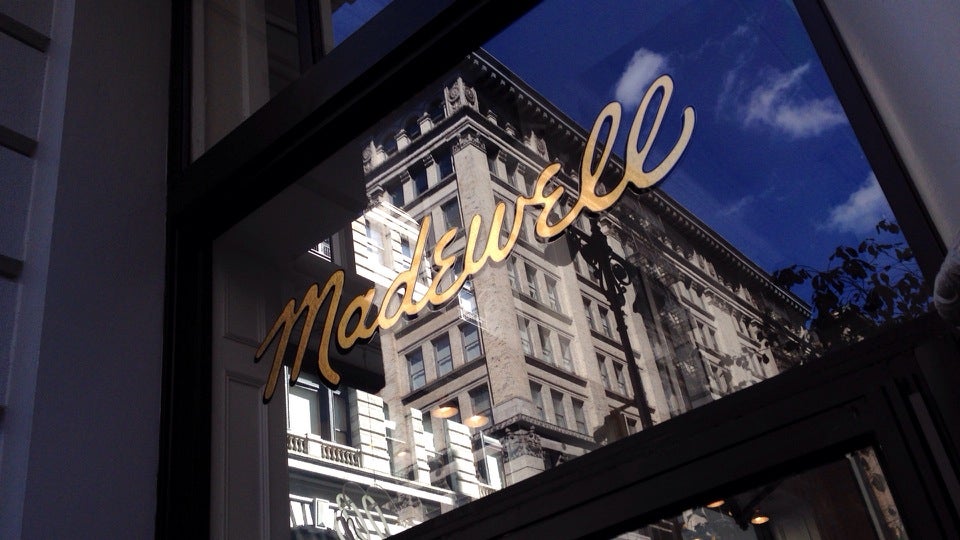 Source: たなやん on Sept 28, 2013


---
Vintage script typefaces are everywhere. If you're in New York these days you're seeing Lobster font and Thirsty Script a half dozen times per week on menus and signs, maybe without realizing it.
Here's a chocolate bar sold at Intelligentsia coffee with "Australia" rendered in Lobster font.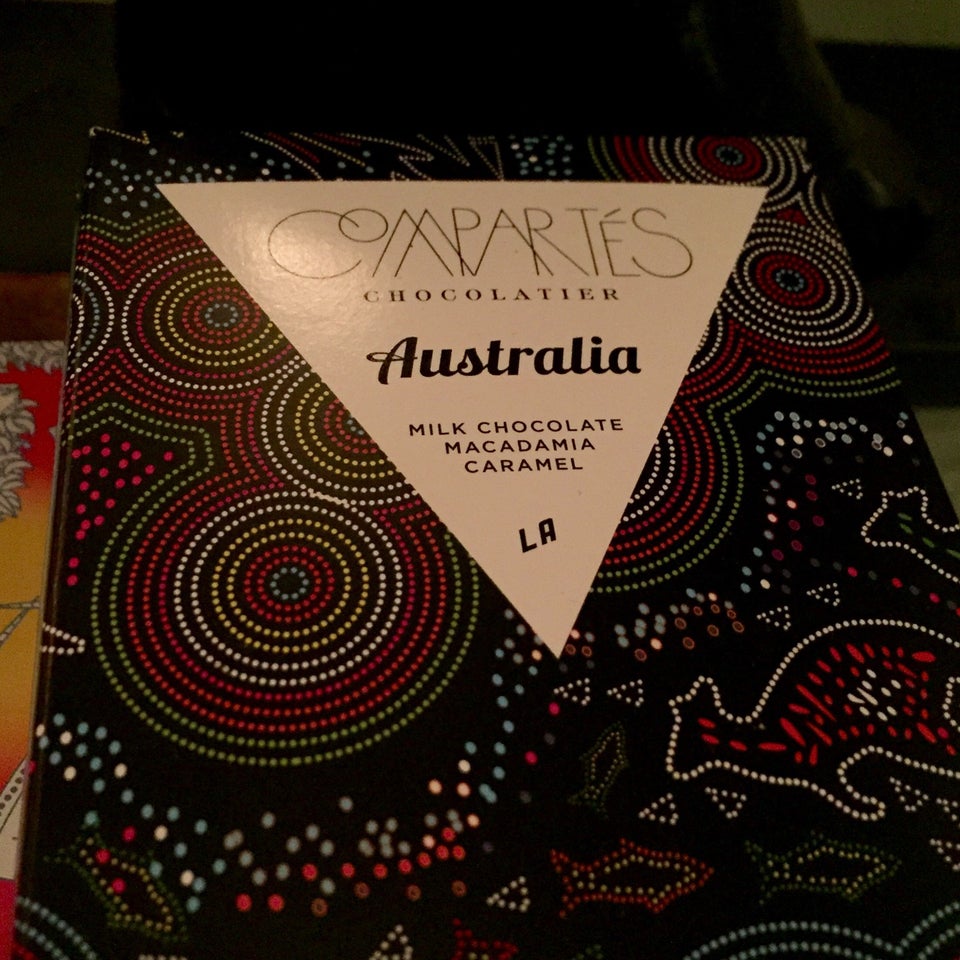 Source: Yours truly on Dec 16, 2014


---
The Futura typeface is also ubiquitous. In spite of the name, Futura is now a nostalgic typeface, developed in the late 1920's. Wes Anderson famously uses it for nostalgic effect. Stanley Kubrick was notoriously a fan of Futura as well. Here it's used in the logo for Toby's Coffee, a contrast to the more modern type used by Starbucks (often Avenir).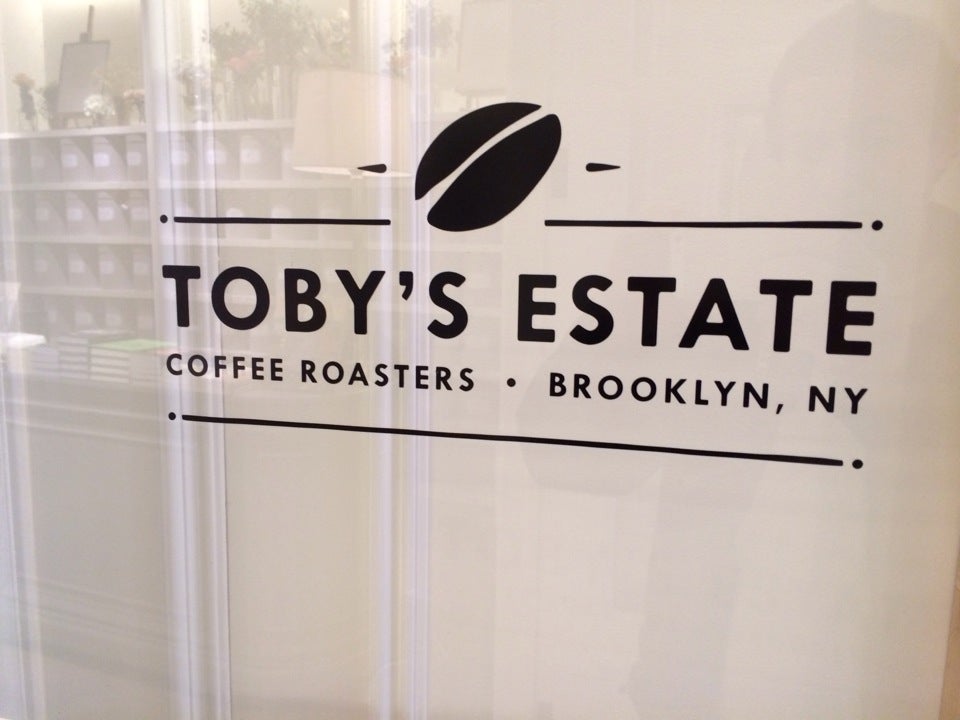 Source: Noah Weiss on Sept 28, 2013


---
(Another gratuitous subway tile shot, this time at Toby's)


Source: Ric Camacho on April 3, 2014


---
Ok, back to type (again). And chocolate bars! It's a little hard to tell here, but Futura is also used for Mast Brothers chocolate bars, which are sold in coffee shops like Stumptown.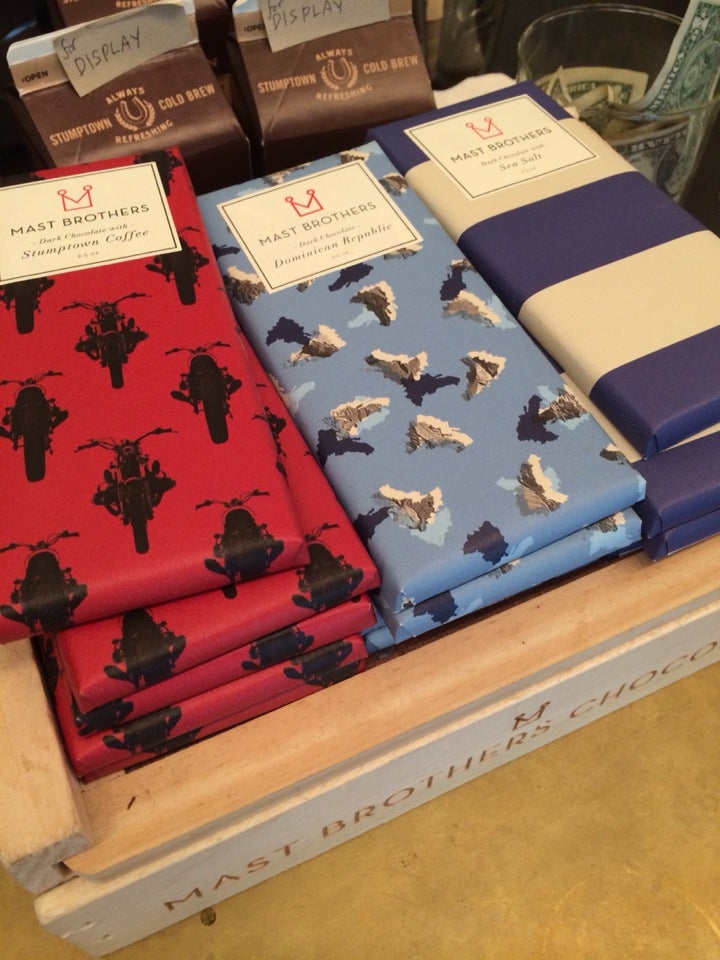 Source: Neil Parikh on August 10, 2014


---
The Dutch, a bar, restaurant and "oyster room" in Greenwich Village, pairs a vintage script type with a Futura-esque font. The long shadow, very popular today, feels decorative but still quaint.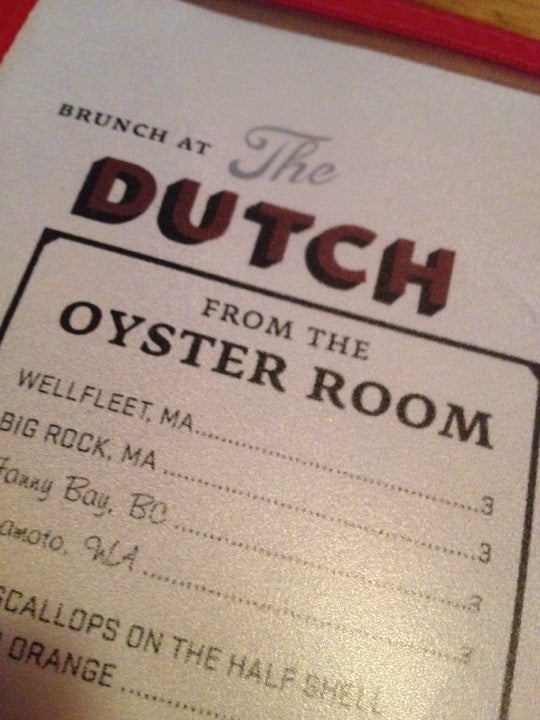 Source: Michael Lis on March 31, 2012


---
Madewell is also fond of long shadow. With the matte black type and gold shadow on wood, it pulls off vintage, grandeur and rusticness all at once. Especially with those old-timey arrows.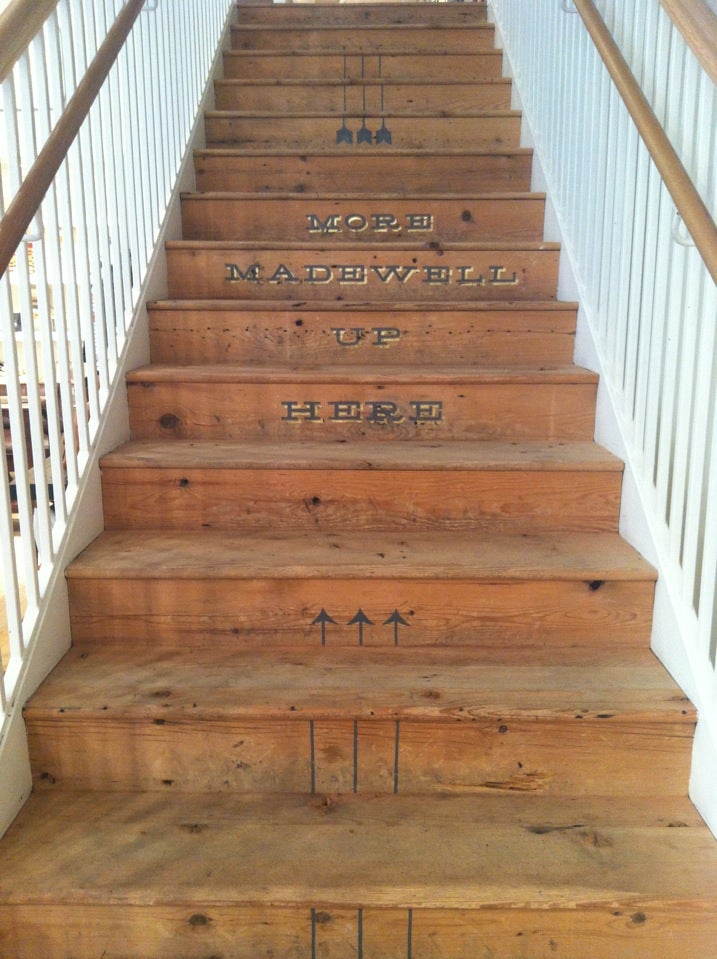 Source: Brian Martin on July 11, 2013


---
Inline decoration is also popular with lettering these days. It evokes a name put up in lights. Here it's used in the logo for 'Essen, a sandwich shop on Madison Avenue.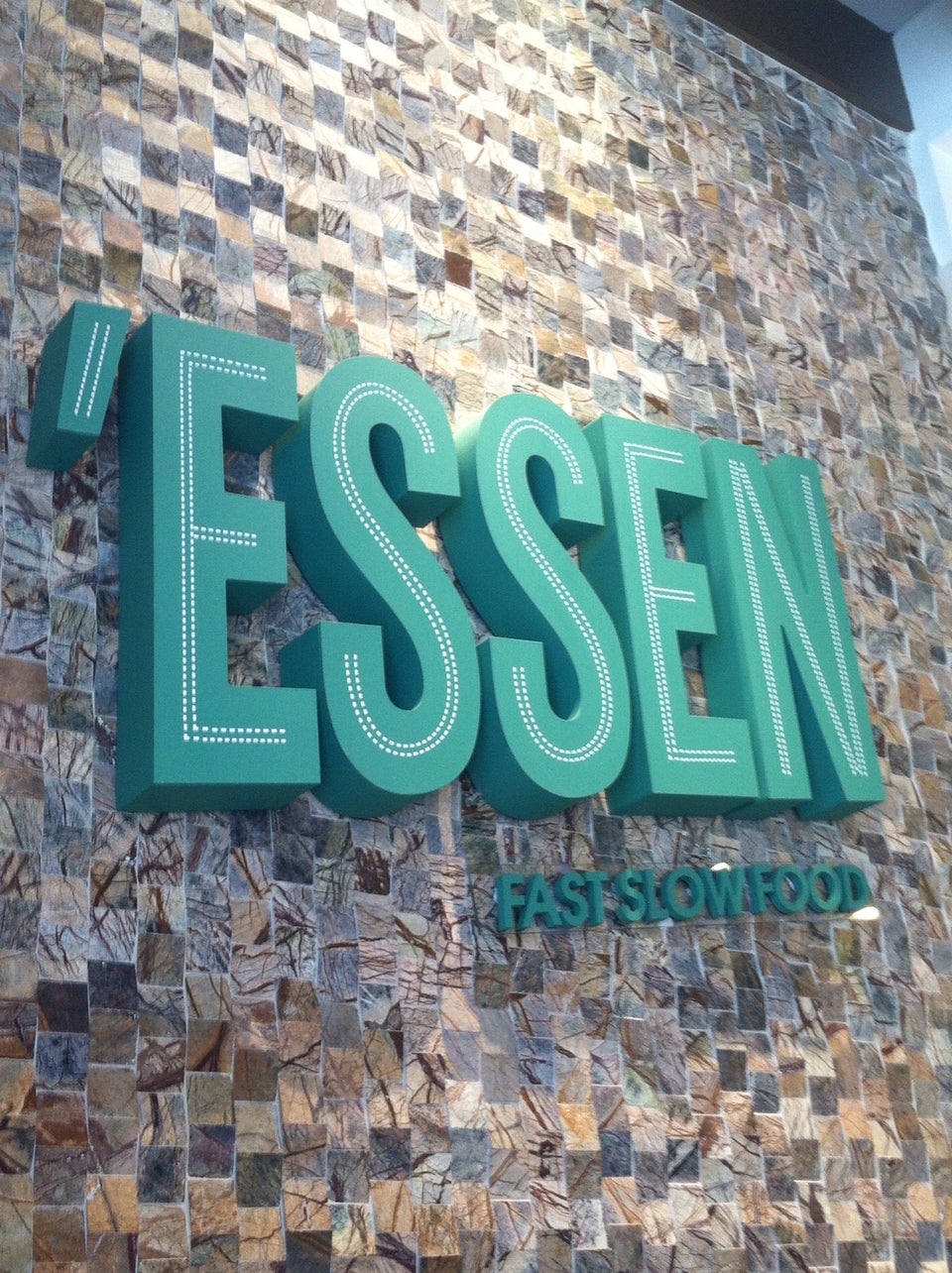 Source: Patrick Bonfrisco on May 20, 2013


---
Of course, why evoke something when you can do the real thing? Retail stores are fond of putting up text in lights.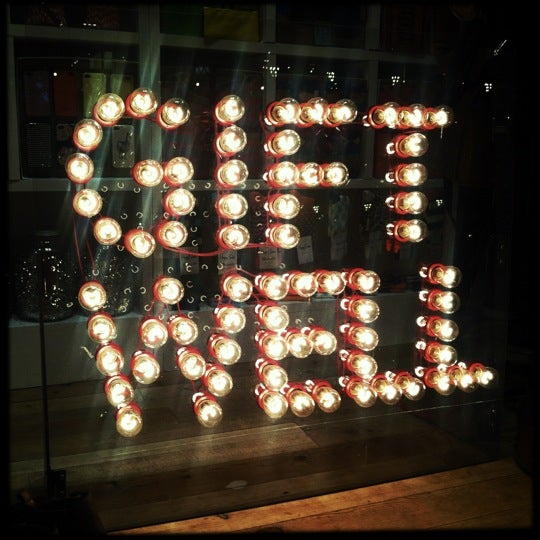 Source: Perlorian Brothers on Nov 28, 2012


---
The Birchbox retail location does this too.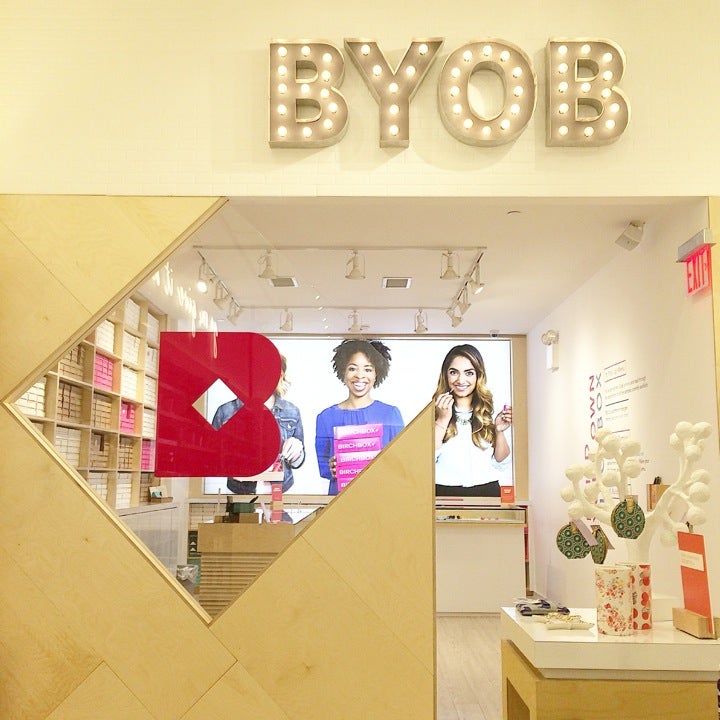 Source: Jessica Bishop on July 30, 2014


---
Exposed lightbulbs are also very popular. They feel industrial. Here they are in a much beloved cafe here in New York, Grey Dog. The decor at Grey Dog might be described as "technicolor rustic French".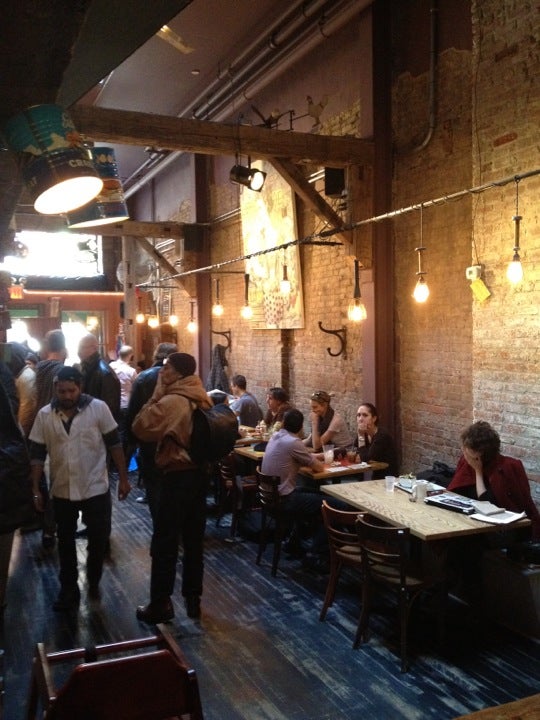 Source: Clarissa Madrigal on April 23, 2013


---
And here's where we begin to close the loop on this post. These are some more exposed lightbulbs in the garden at Freeman's, a very distinctive and always-packed restaurant on the Lower East Side...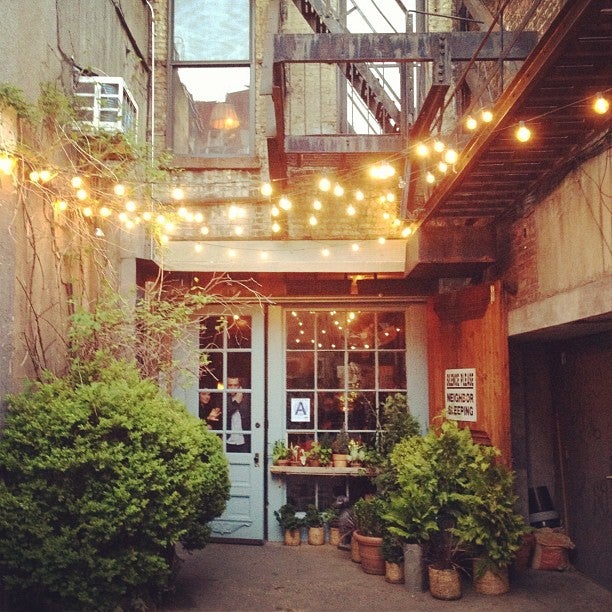 Source: Bastian Beyer on


---
...we're closing the loop with Freeman's because they opened a barbershop adjacent to the restaurant way, way ahead of this trend. It opened somewhere around 2006, according to a friend of mine.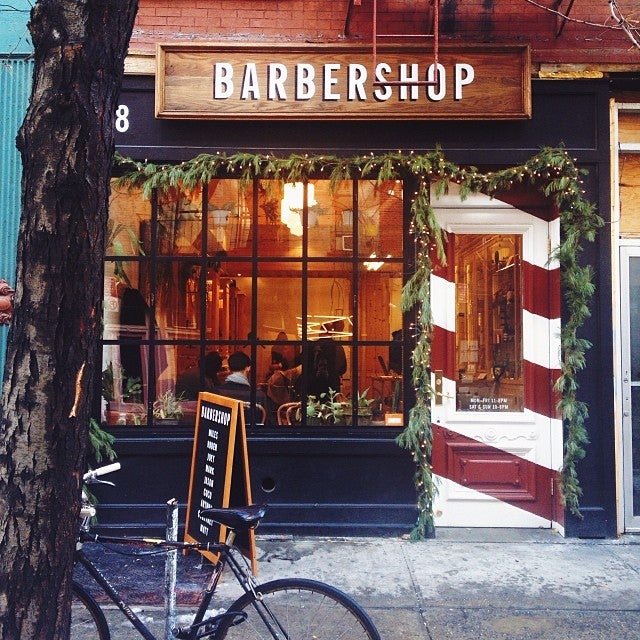 Source: Kirsten Alana on December 15, 2013


---
That's all for my photo essay. I hope you enjoyed. Thanks to my friend
Mike Casarella
of Barking Irons and
Luke Cahill
, a colorist in Los Angeles, for their feedback and help in fleshing out these ideas.